Chrissy S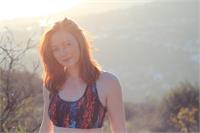 Chrissy found her love for yoga while studying abroad in Puerto Rico. Once she learned how to use her breath to advance her physical, mental, and spiritual growth she was hooked. Chrissy believes yoga isn't just a trendy workout but rather a lifestyle that allows you to become more conscious of how the mind, body, and soul feel and connect on a daily basis. Besides yoga Chrissy is passionate about holistic healing, art therapy, and writing.
Chrissy S instructs the following:
Yoga Vibe is a class that links breath to movement and beat as we seamlessly practice the postures to soulful sounds. Candles and high volume music set the ambiance of the room. The fast paced journey concludes with long stretches, deep hip openers and a guided meditation. Expect less alignment cues to help you remain centered and in your practice. Intermediate level recommended. Heated to 105-107 degrees. Class created by Omar Lopez.