Chevy L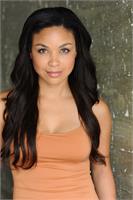 Chevy developed a deep passion for athleticism, music, and movement at age 3, when she strapped on her first set of tap shoes. After years as a competitive dancer, the Michigan native moved to LA to earn her B.A. from LMU, and M.A. from USC. While working in corporate marketing and sales, Chevy found herself spending any free time she had in the pursuit of fitness. Ultimately she decided to leave her corporate career behind and take her passion to a new level, becoming a Yoga Alliance registered yoga instructor certified in hot power vinyasa and yoga sculpt, and soon after, a cycling instructor at SoulCycle. Committed to helping her students create a powerful mind-body connection that can be utilized both on and off the mat, Chevy's class can be described as upbeat, challenging, and fun.
Chevy L instructs the following:
This high-intensity, vinyasa-style flow class incorporates small hand weights and cardio to burn fat and build lean muscle mass. This power-up session builds strength, stamina, and flexibility. Free weights serve as your own personal adjuster as you move through Sun Salutations in a vinyasa-style class, enabling extra length and depth in each pose. Designed for intermediate levels in a room heated to 100-105 degrees.