Mary E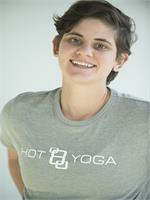 Mary first started practicing at Hot 8 Yoga for a challenging workout. It was not until she added Yin Yoga into her practice that she understood the need for balance. The balance and release Yin provided to her body actually added strength to her yang yoga practice as well as to her other athletic endeavors like marathon and triathlon training. She fundamentally believes that once you experience it in your body you will feel the strength that Yin Yoga makes space for. When shes not hanging around Hot 8 Yoga, she can be found at the theater, running, eating cupcakes and snuggling with her cat. She is a feminine feminist, could talk your ear off about environmental awareness, and spends her free time walking homeless dogs at NKLA.
Mary E instructs the following:
This slow-moving class targets connective tissue through seated and lying postures held for long periods of time with the use of blocks and straps. Yin compliments the more active classes offered at Hot 8 Yoga by increasing circulation in the joints and improving flexibility. This practice is perfect for all levels and those recovering from injury.