Liz D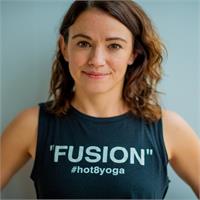 After trying yoga a couple of times sporadically throughout college, Liz rediscovered yoga "by accident" when a friend bought a Groupon to an Ashtanga studio that she couldn't use and passed it along. This time something clicked, and she was drawn to the mind/body/breath connection and the physical challenge that yoga offers. Her passion for yoga quickly grew, leading her to different studios and styles, until eventually taking the plunge into teacher training.
Liz has experienced the profound effects yoga has on the body and the mind and wants to share this path with others. She utilizes alignment, breathing techniques and yogic philosophy to create a space where students can grow, spiritually and physically, feel confident and strong in body and mind, and most importantly, have fun!
In addition to yoga, she has studied meditation in the Shambhala tradition, and completed her 300 hour training in Yoga & Ayurveda.
Liz D instructs the following:
This intermediate vinyasa-style class guides students through more advanced postures and creative sequencing. Power links breath to movement and may include arm-balances, inversions and twists to stretch and strengthen the body. Accompanied by music.




This set series is an hour-long, shoulder and wrist-friendly class without chaturangas (high to low push-ups) that combines the 26 & 2 and Power Yoga styles. Hot Power Fusion includes balancing, core work, hip openers and inversions accompanied by music, encouraging mindful focus and detoxification.