Alex H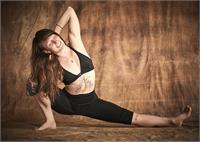 Alex loves this yoga stuff. She really believes in its power to change the world too. It's not only her studies with teachers across the country, its the inner-work and self study that she finds truly magical and transformative. That empowering self-analysis and the awareness that comes with it is ultimately what she seeks to share with you! With over 10 years practicing, 8 years teaching she's in the game for the long-haul, and she wants to share every bit of power, vinyasa, yin, pranayama, and meditation she can with you. Hopefully with a few good laughs and stories along the way. Alex keeps it light, but she takes you deep, as deep as you're ready to go!
Alex H instructs the following:
A Vinyasa-style dynamic flow class, Hot Power Yoga uses breath as the primary link between attentiveness and integration of the mind and body. Hot Power Yoga is an intense practice that will flow you through strengthening postures throughout the entire class. This practice is meant to detoxify the body and burn calories through movement, breath, and heat. Designed for intermediate to advanced levels. Heated to 105-109 degrees.




Power 1 Yoga $8 Community class taught by recent graduates!

A Vinyasa-style flow class designed for beginners to learn proper alignment and breath. It is a whole body strengthening practice that includes Sun Salutations, standing postures, simple arm balances, core strengthening, back bends, hip openers, and basic inversions. This class is excellent for those new to yoga as well as those with injuries to learn modifications; temp 100-105

**Must purchase the $8 Community class at the studio. It is not available online.
All who have a 10 class package will need to purchase the $8 class separately from your current package. Those with memberships and yearly contracts, this class will be deducted from your current membership.