Alex H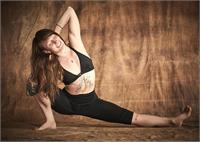 Alex loves this yoga stuff. She really believes in its power to change the world too. It's not only her studies with teachers across the country, its the inner-work and self study that she finds truly magical and transformative. That empowering self-analysis and the awareness that comes with it is ultimately what she seeks to share with you! With over 10 years practicing, 8 years teaching she's in the game for the long-haul, and she wants to share every bit of power, vinyasa, yin, pranayama, and meditation she can with you. Hopefully with a few good laughs and stories along the way. Alex keeps it light, but she takes you deep, as deep as you're ready to go!
Alex H instructs the following:
This intermediate vinyasa-style class guides students through more advanced postures and creative sequencing. Power links breath to movement and may include arm-balances, inversions and twists to stretch and strengthen the body. Accompanied by music.