Faren C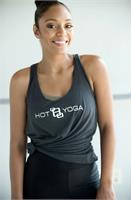 Faren Collins is originally from Atlanta Georgia. Miss Collins, began her dance career at the age of 9. She attended a performing arts high school which led her to Penn State University where she graduated with a BFA musical theatre. Miss Collins has had a diverse dance career which includeds: dancing in professional musical theatre productions, music videos, commercials, and a pro team for (the Boston Celtics) NBA. Miss Collins began her journey with Barre as a student many years ago. She fully believes barre can be a positive and life-changing experience for everyone. With her laid back, comforting, direct and fun personality class will be a challenging and invigorating experience.
Faren C instructs the following:
This class is a dynamic fusion of barre work, light weights, non-impact cardio and yoga designed for developing long and lean muscles. By activating small muscles groups this class provides cross training and aids in injury prevention and recovery. Yoga Barre is a high energy class and is excellent for anyone looking to tone legs, booty, core, and arms to upbeat music.