Faren C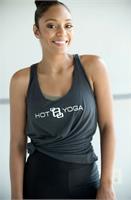 Faren Collins is originally from Atlanta Georgia. Miss Collins, began her dance career at the age of 9. She attended a performing arts high school which led her to Penn State University where she graduated with a BFA musical theatre. Miss Collins has had a diverse dance career which includeds: dancing in professional musical theatre productions, music videos, commercials, and a pro team for (the Boston Celtics) NBA. Miss Collins began her journey with Barre as a student many years ago. She fully believes barre can be a positive and life-changing experience for everyone. With her laid back, comforting, direct and fun personality class will be a challenging and invigorating experience.
Faren C instructs the following:
Hot Yoga Barre is a dynamic fusion of yoga, body sculpting, barre work, and non-impact cardio designed for developing long and lean muscles. This hour-long class is packed with toning exercise that sculpt the buttocks, abdominals, thighs, and arms. The class is filled with strengthening postures at the barre working legs and abdominals fused with yoga postures on the mat to release and lengthen from the barre work. It will also improve your posture and form a sculpted physique. Hot Yoga Barre is an intermediate level class practice in a room heated to 104-109 degrees.