Camai B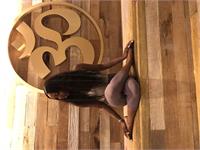 Camai grew up in a large family of athletes, competing in sports, cheer and dance through youth. She competed as a Division 1 Track & Field athlete at Ohio State University and it was during college that Camai was first introduced to yoga as a means of active recovery. Her preferred post collegiate "workout" quickly became Bikram Yoga as she was drawn to the mental and physical challenge the heat provided. Upon moving to Los Angeles in 2014, Camai discovered Hot 8 Yoga and instantly connected with the studio and amazing staff. It was in 2017 that she made the commitment to lead others in health and wellness through yoga, embarking on her first teacher training for Yoga Barre. Camai teaches a dynamic class with emphasis on musicality, breath and mental strength but more importantly creates a supportive and challenging environment to empower you.
Camai B instructs the following:
This class is a dynamic fusion of barre work, light weights, non-impact cardio and yoga designed for developing long and lean muscles. By activating small muscles groups this class provides cross training and aids in injury prevention and recovery. Yoga Barre is a high energy class and is excellent for anyone looking to tone legs, booty, core, and arms to upbeat music.