Ilan N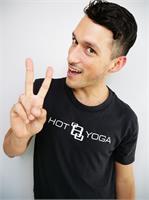 Originally from Belize, Ilan Nuñez is known for his passion, persistence, and enthusiasm. With a strong background in dance, he infuses his focus on alignment and form into his high energy classes.
Graduating from Point Park University with a BA in Dance and signed with Movement Talent Agency; Ilan has conquered many platforms in his career. Recent credits include: "The Greatest Showman Live Promo", "WISH APP" and "Cointreau".
Certified by Hot 8 Yoga, Ilan Nuñez is a believer in the power of a strong community. Soon after starting his practice with Hot 8 Yoga, Ilan quickly worked his way up to Sculpt instructor and is excited for his new journey and the continuation of his practice.
Ilan N instructs the following:
This breath to movement class that combines free weights with yoga and cardio to increase stamina and strength. Sculpt is a total body workout designed to sculpt and define every major muscle group. This class is high energy with upbeat music.




This class is a dynamic fusion of barre work, light weights, non-impact cardio and yoga designed for developing long and lean muscles. By activating small muscles groups this class provides cross training and aids in injury prevention and recovery. Yoga Barre is a high energy class and is excellent for anyone looking to tone legs, booty, core, and arms to upbeat music.