Elle R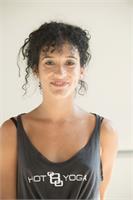 Elle developed a deep passion for yoga through her love for dance! When she was just three years old, she began training in the art of dance & by age fifteen had already began instructing & choreography dance for an array of students. In 2013, Elle packed her car & drove from Michigan to California to pursue her dreams. Just a few years ago her best friend brought her to her first heated yoga class, where she instantly fell in love! This opened her eyes to a new way of mindfully moving & finding peace within herself through breathe, meditation & a devoted practice. Her practice quickly became one of the biggest & most gratifying parts of her life. She knew she wanted to learn how she could help share this love & passion she has found, as someone else so kindly guided her to as well! Since then she has completed her 200hr Power certification & is now teaching Yoga & Yoga Barre to the greater Los Angeles area! Elle strives to create a genuine, safe & welcoming space for all attending students, while also combining her knowledge from instructing dance & yoga to create a challenging but exceptionally fun work out for the body & mind. Elle's class will leave you feeling invigorated, refreshed, & inspired for anything the rest of the day has to bring you! Always eager to make more connections within the yoga community, Elle looks forward to seeing you in class very soon!
Elle R instructs the following:
This foundational class connects breath to movement (vinyasa) and focuses on proper alignment to set students up for success in all styles offered at Hot 8 Yoga. The temperature is set at a lower level to help acclimate students to the heat. Power 1 is an excellent full body strengthening class for both new and experienced students to learn any necessary modifications to improve their practice.