Damara T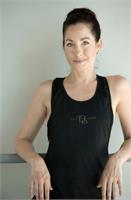 Damara is a Los Angeles native who found a love for dance at the early age of seven. She studied ballet for many years under the direction of Patrick Franz, former Premier Danseur of the Paris Opera Ballet, and later graduated from Idyllwild Arts Academy under the direction of Jean-Marie Martz.
Her professional career brought her to Denver, Colorado for many years where she learned the importance of cross training to help her body recover from injuries and sustain her most valuable instrument, her body. After experiencing years of pain in her hips, she found Pilates, which helped her to regain her core strength and align her body more symmetrically. When she returned to Los Angeles, she found a way to combine this Pilates knowledge with her knowledge of ballet and began teaching a Lotte Berk inspired Barre workout for Pop Physique in 2015.
Damara was introduced to Hot 8 Yoga through friend and now Pasadena Yoga Director, Devon Riesenbeck. After taking her first Yoga Barre class with instructor Miriam, she was completely hooked. While the movements were all very familiar to her, there was something about the Hot 8 teaching style and vibe that resonated so deeply. She found herself leaving class more fulfilled and happy, letting go of her self-doubts and criticisms (a difficult task for a ballet dancer), not to mention feeling fantastic physically! Damara is excited to share her passion for movement and fitness with all of her students. She strives to provide an environment that is welcoming, safe, and fun. See you in class!
Damara T instructs the following:
This class is a dynamic fusion of barre work, light weights, non-impact cardio and yoga designed for developing long and lean muscles. By activating small muscles groups this class provides cross training and aids in injury prevention and recovery. Yoga Barre is a high energy class and is excellent for anyone looking to tone legs, booty, core, and arms to upbeat music.




A Vinyasa-style dynamic flow class, Hot Power Yoga uses breath as the primary link between attentiveness and integration of the mind and body. Hot Power Yoga is an intense practice that will flow you through strengthening postures throughout the entire class. This practice is meant to detoxify the body and burn calories through movement, breath, and heat. Designed for intermediate to advanced levels. Heated to 105-109 degrees.

**Must purchase the $8 Community class at the studio. It is not available online.
All who have a 10 class package will need to purchase the $8 class separately from your current package. Those with memberships and yearly contracts, this class will be deducted from your current membership.