Anna C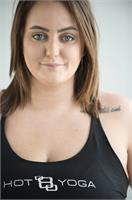 From front desk to teacher Anna loves everything Hot 8! Born and raised in Phoenix, AZ this might be the reason she is drawn to the heat! She fell in love with yoga after graduating college when she needed something new to focus her energy on. She loved that yoga fostered a judgement free zone and brought everyone together to focus on movement, breath, and mindfulness. Expect her class to be filled with everything from 90s pop to even a little oldies rock. Besides yoga Anna has a strong love for coffee, empowering women, sunsets, and wine.
Anna C instructs the following:
This breath to movement class that combines free weights with yoga and cardio to increase stamina and strength. Sculpt is a total body workout designed to sculpt and define every major muscle group. This class is high energy with upbeat music.




Join us for the 30 Day Challenge Glow Party Celebration Sculpt Class!!! Come celebrate the 30 Day Challengers with low lights and glow stick fun.

This high-intensity, vinyasa-style flow class incorporates small hand weights and cardio to burn fat and build lean muscle mass. This power-up session builds strength, stamina, and flexibility. Designed for intermediate levels in a room heated to 100-105 degrees.