Stephanie Bours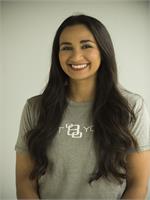 Stephanie has been practicing yoga since 2011. She picked up her love of yoga from her first heated Yoga Sculpt class. Her yoga practice has helped her grow stronger and develop self-love both on and off the mat. In her classes, she challenges you to build strength in the mind and body to help achieve your potential. Stephanie has been an athlete since her childhood playing various sports, including water polo at the college level. She is continuing to deepen her yoga practice by pursuing the 200-hour Power Yoga certification at Hot 8 Yoga, expected to be completed in 2018.
Stephanie Bours instructs the following:
This breath to movement class that combines free weights with yoga and cardio to increase stamina and strength. Sculpt is a total body workout designed to sculpt and define every major muscle group. This class is high energy with upbeat music.




This foundational class connects breath to movement (vinyasa) and focuses on proper alignment to set students up for success in all styles offered at Hot 8 Yoga. The temperature is set at a lower level to help acclimate students to the heat. Power 1 is an excellent full body strengthening class for both new and experienced students to learn any necessary modifications to improve their practice.