Liz K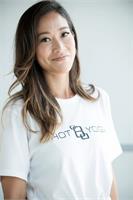 Liz Kaoh, RD, M.A., E-RYT, started teaching yoga in 2012. She discovered her love for yoga in her hometown of Honolulu, Hawaii when she was 15 and has experienced the transformative effects of mindful practice on her life. She completed her graduate studies in psychology at Columbia University on contemplative practices for psychosocial development and coursework at New York University in human nutrition. As a registered dietitian and yoga instructor she believes wellness lies within a trifecta: mental health, physical wellbeing, and nutrition. She believes yoga is one of the many bridges that helps connect one's physical health to overall mental and emotional wellbeing.
Her classes strive to challenge individuals to tap into their inner physical and mental strength. Liz is certified to teach children, teen, and adult yoga classes. You can find her teaching power, 26+2, and Hot Power Fusion classes at Hot 8 Yoga.
Liz K is currently not instructing any classes.