Liz K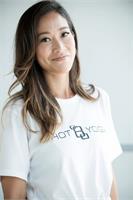 Liz Kaoh, RD, M.A., E-RYT, started teaching yoga in 2012. She discovered her love for yoga in her hometown of Honolulu, Hawaii when she was 15 and has experienced the transformative effects of mindful practice on her life. She completed her graduate studies in psychology at Columbia University on contemplative practices for psychosocial development and coursework at New York University in human nutrition. As a registered dietitian and yoga instructor she believes wellness lies within a trifecta: mental health, physical wellbeing, and nutrition. She believes yoga is one of the many bridges that helps connect one's physical health to overall mental and emotional wellbeing.
Her classes strive to challenge individuals to tap into their inner physical and mental strength. Liz is certified to teach children, teen, and adult yoga classes. You can find her teaching power, 26+2, and Hot Power Fusion classes at Hot 8 Yoga.
Liz K instructs the following:
This intermediate vinyasa-style class guides students through more advanced postures and creative sequencing. Power links breath to movement and may include arm-balances, inversions and twists to stretch and strengthen the body. Accompanied by music.




A Vinyasa-style dynamic flow class, Hot Power Yoga uses breath as the primary link between attentiveness and integration of the mind and body. Hot Power Yoga is an intense practice that will flow you through strengthening postures throughout the entire class. This practice is meant to detoxify the body and burn calories through movement, breath, and heat. Designed for intermediate to advanced levels. Heated to 105-109 degrees.

**Must purchase the $8 Community class at the studio. It is not available online.
All who have a 10 class package will need to purchase the $8 class separately from your current package. Those with memberships and yearly contracts, this class will be deducted from your current membership.