GG S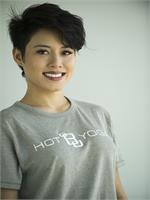 Born in the Philippines and raised in San Diego, GG has been involved in fitness and dance since preschool. At 6 years old, she started figure skating and throughout the years excelled as a competitive figure skater. As part of her off-ice training, she was introduced to yoga, pilates, and ballet which became integral aspects of her lifestyle. After passing two senior tests in two different disciplines, she earned her title as a US Figure Skating Double Gold Medalist and took on coaching figure skating before graduating high school. Shortly after, GG moved to LA to pursue interests of music and cultural dance and continued coaching and off-ice training figure skaters in LA. Searching for something grounding in her new surroundings, GG discovered hot yoga, finding it especially relieving after a long day of work in a cold ice rink. Her love for hot yoga lead her to Hot 8 Yoga where she took and loved all the classes offered. She connected particularly with yoga barre, a class that took her back to her off -ice training days. Deciding to take her coaching skills and her own fitness to another level, GG went through teacher training under Nancy Norby and Briana DeFalco and is certified by Hot 8 Yoga. During teacher training, she experienced quick physical results as well as life changing spiritual and mental growth. GG teaches yoga barre in hopes of uplifting and bringing a positive change to students the way yoga barre does for her.
GG S instructs the following:
This class is a dynamic fusion of barre work, light weights, non-impact cardio and yoga designed for developing long and lean muscles. By activating small muscles groups this class provides cross training and aids in injury prevention and recovery. Yoga Barre is a high energy class and is excellent for anyone looking to tone legs, booty, core, and arms to upbeat music.