Keon S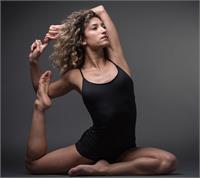 Keon Saghari has a passion for movement and connecting with people in her community. Her initial interest in becoming a yoga instructor stemmed from her career in contemporary dance. Hot yoga quickly became Keon's favorite form of cross training while she was touring and performing with various dance companies in San Francisco. The benefits were so powerful that she couldn't resist her desire to help others achieve the same results. In 2013, Keon received her Bikram Yoga certification through Bikram Choudhury. She committed herself to teaching this practice with love and care; combining all of her previous knowledge of the body and movement to teach a class that is fun, informative, meditative, and healing. In 2017, Keon added Inferno Hot Pilates (high intensity low impact interval training using Pilates principals) to her roster of teaching. Having just moved to Los Angeles in 2018, Keon hopes to continue her education in various yoga practices, meet more people in her new yoga community, and is very excited to be apart of the Hot 8 family!
Keon S instructs the following:
This 90 minute set sequence of 26 postures and 2 breathing exercises. Class is composed of a standing series followed by a floor series where each posture is done twice. Through discipline and structure, 26 & 2 allows students to gain strength, flexibility and balance. Conducted without music, 26 & 2 assists in developing the concentration needed for meditation and proper alignment.