Mason M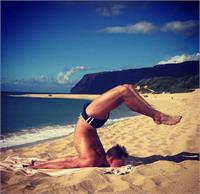 Yoga is my medicine. It heals me. It wakes me up to the magnificence that resides within me. It helps me release the thoughts that do not serve me. It's a practice in loving my own heart a little deeper. After my first hot yoga class over nearly 15 years ago, I knew that this yoga was for me...for life. I knew that the heat and the yoga combined expedited that healing that I was seeking. As an architect I'm obsessed with shapes and design. The 26+2 sequence resonated with me as I intuitively felt the genius of its design. How it systematically flushes each of my organs and restores my body to its optimum health. How it teaches me to find peace in uncomfortable situations. And how it reveals my tenacity and power. My love for this yoga runs deep, so it is an honor to share what I've learned and empower others to use this ancient technology to awaken. This is my passion, this is my heart, this is my yoga. Be prepared to go through a little bit of hell to reach absolute heaven. Let's do this!
Mason M instructs the following:
This 90 minute set sequence of 26 postures and 2 breathing exercises. Class is composed of a standing series followed by a floor series where each posture is done twice. Through discipline and structure, 26 & 2 allows students to gain strength, flexibility and balance. Conducted without music, 26 & 2 assists in developing the concentration needed for meditation and proper alignment.