Bobby R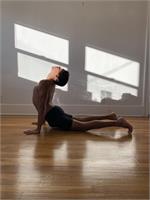 Bobby stepped onto the mat in 2010 after years of an eating disorder and self-medicating came to a head at the age of nineteen. Desperate to clear through the fog of anxiety and depression, Bobby found a lighthouse in the form of Santa Monica Yoga. Once armed with the tools of yoga practice, Bobby was able to find connection and a love of self he had no idea had been absent in his life for so long. Bobby is especially grateful to his first teacher, the late Gemil Everett for helping him find joy through Tantra and Anusara yoga. He is also most recently grateful for sharing time, space, and inquiry alongside the illuminating Julia Planine-Troiani and her fierce love for the work. It is in this spirit that Bobby aspires to share time, space, and the tools with you, in the hope that you too find joy and truth in them on the journey toward Self-Realization.
Bobby R instructs the following:
This intermediate vinyasa-style class guides students through more advanced postures and creative sequencing. Power links breath to movement and may include arm-balances, inversions and twists to stretch and strengthen the body. Accompanied by music.




A Vinyasa-style flow class designed for beginners to learn proper alignment and breath. This class is practiced in a candlelit roomIt is a whole body strengthening practice that includes Sun Salutations, standing postures, simple arm balances, core strengthening, backbends, hip openers, and basic inversions. This class is excellent for those new to yoga as well as those with injuries to learn modifications; temp 100-105




This foundational class connects breath to movement (vinyasa) and focuses on proper alignment to set students up for success in all styles offered at Hot 8 Yoga. The temperature is set at a lower level to help acclimate students to the heat. Power 1 is an excellent full body strengthening class for both new and experienced students to learn any necessary modifications to improve their practice.




New to meditation? This is the perfect place to start. Become more relaxed, efficient, and compassionate in just 15 minutes. This silent practice is conducted in a group setting for a more powerful experience of deepening your collective awareness.