Maya G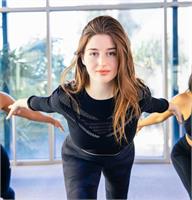 As a young girl I dabbled in almost everything; swim teams, tennis, and gymnastics, but dancing was the only thing that stuck. For about 10 years of my childhood I was a competitive latin ballroom dancer. When I am posed the question of how I found yoga, I always come to the conclusion that yoga found me! I started truly practicing at the age of 16 and have not let it go since. For a teenage girl it provided me so much more than just a physical practice. To me yoga was my therapist, my coach, and my friend. I now find one of my hobbies being to educate and spread enlightenment on what yoga truly is and the endless benefits of the practice.Through yoga I found myself and a beautiful community. My classes will push you and test your strength physically and mentally. At the same time my classes are energetic and fun. Come make this practice your own and get your sweat on!
Maya G instructs the following:
This class is a dynamic fusion of barre work, light weights, non-impact cardio and yoga designed for developing long and lean muscles. By activating small muscles groups this class provides cross training and aids in injury prevention and recovery. Yoga Barre is a high energy class and is excellent for anyone looking to tone legs, booty, core, and arms to upbeat music.




This foundational class connects breath to movement (vinyasa) and focuses on proper alignment to set students up for success in all styles offered at Hot 8 Yoga. The temperature is set at a lower level to help acclimate students to the heat. Power 1 is an excellent full body strengthening class for both new and experienced students to learn any necessary modifications to improve their practice.




This breath to movement class that combines free weights with yoga and cardio to increase stamina and strength. Sculpt is a total body workout designed to sculpt and define every major muscle group. This class is high energy with upbeat music.