Alma M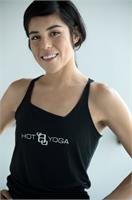 Raised in a traditional Mexican family, the value of health, food, and fitness was engrained into Alma's upbringing. In 2017, Alma discovered her yogi family during the launch of Hot 8 Yoga Sherman Oaks. The Hot 8 community and yoga's power to heal and connect people convinced Alma to set aside her running shoes and dive full force into hot yoga. Alma embarked on her yoga journey by completing a Sculpt Teacher Training course with Devon Riesenbeck and Cindy Gannon in February 2018.
In her classes Alma strives to share her passion for yoga, community, and sweat.
Alma M instructs the following:
A Vinyasa-style flow class with added free weights for increased muscle endurance. This power up session is designed to tone and sculpt every major muscle group. Free weights serve as your own personal adjuster to deepen your practice. Strength training builds lean muscle mass and boosts metabolism even while resting. Intermediate level class-weights are always optional; temp 104-107




This breath to movement class that combines free weights with yoga and cardio to increase stamina and strength. Sculpt is a total body workout designed to sculpt and define every major muscle group. This class is high energy with upbeat music.