Michelle W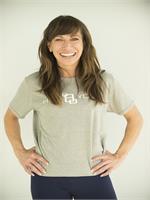 Immersed in the art of movement and the healing practices from a very early age–athletics, the martial arts, and meditation were family traditions for Michelle Wong.
A natural love of dance and a competitive spirit lead to a career in figure skating, whereas a teenager Michelle trained for a spot on the United States Olympic team while living in her native Los Angeles, California.
After suffering a serious spinal injury in a car accident as a young adult, Michelle embraced yoga as one piece of a holistic rehabilitation method that also included nutrition, muscular resistance training, and Chinese medicine. After more than a decade and over 17,000 hours of seasoning, Michelle practices all of these life-enhancing techniques, but yoga remains her primary devotion.
With a teaching resume that includes some of Montreal's premier fitness Clubs and California's newest Studios, Michelle puts her experience into practice with expertise in yoga and the various styles in the practice, high intensity training, personal and group training and spinning.
Michelle W instructs the following:
This slow-moving class targets connective tissue through seated and lying postures held for long periods of time with the use of blocks and straps. Yin compliments the more active classes offered at Hot 8 Yoga by increasing circulation in the joints and improving flexibility. This practice is perfect for all levels and those recovering from injury.