Sierra W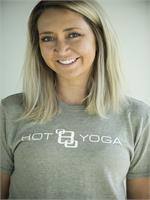 Sierra, a Los Angeles native, has traveled the world as a competitive fast pitch softball catcher. She attended Emerson College in Boston, and began an intense conditioning regime as part of their softball team. Years behind the plate began to wear on her joints and muscles and sent her searching for a workout that was low impact, but still challenging. She was skeptical about yoga, but after her first 26 & 2 class she was hooked! After years of practicing at Hot 8, she took her first teacher training under the supervision of Nancy Norby and became certified in Yoga Barre. Sierra loves working out in the heat because it allows tight muscles to open up, and fosters mental fortitude. Her background in competitive sports brings a fun edge to her classes. She can't wait to see you in class!
Sierra W instructs the following:
This class is a dynamic fusion of barre work, light weights, non-impact cardio and yoga designed for developing long and lean muscles. By activating small muscles groups this class provides cross training and aids in injury prevention and recovery. Yoga Barre is a high energy class and is excellent for anyone looking to tone legs, booty, core, and arms to upbeat music.