Nia B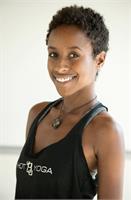 Nia is an artist from Cerritos, California who found Yoga 4 years ago while struggling with anxiety, depression and physical pain due to scoliosis. Within that time she's has valued the process of patience, self study and compassion, which created space in her mind to truly love and honor not only her body, but her journey through life as an artist.
After receiving her Bachelors Degree in Psychology and 200 hr yoga certificate with Cloud Nine Yoga, she began sharing her teachings to those who struggle with addiction by unveiling the underlying source from within. In her class, she incorporates her knowledge of the chakra system in order to help her students understand their bodies on an energetic level through a physical perspective. She also emphasizes the importance of the breath within every movement and posture in hopes of reminding her students to tune into the present moment, and to use and trust their bodies as their own personal blueprint for life.
Nia is known for her authentic, nonjudgmental teaching style and uses compassion to guide her students through the exploration of self in hopes of inspiring her students to follow their bodies, breath and intuition in their own individual way. She believes that yoga is a lifestyle practice that helps to silence the chatter and chaos in the mind to make way for the magic within.
Nia B instructs the following:
This slow-moving class targets connective tissue through seated and lying postures held for long periods of time with the use of blocks and straps. Yin compliments the more active classes offered at Hot 8 Yoga by increasing circulation in the joints and improving flexibility. This practice is perfect for all levels and those recovering from injury.