Tiffany K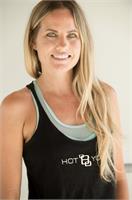 Tiffany has been practicing yoga for over 10 years after being introduced to her first heated yoga class and loving it!
She began teaching four years ago because yoga made such a positive impact on her life, and wanted the opportunity to share with anyone and everyone how they could benefit from yoga as well.
She loves to see the transformations physically, mentally, and spiritually that her students experience through their own personal practice. Tiffany teaches multiple styles of yoga, including, Yoga Sculpt, Power Vinyasa, and Hot Power Fusion. She enjoys connecting with her students and growing together through the practice of yoga!
Tiffany K instructs the following:
This set series is an hour-long, shoulder and wrist-friendly class without chaturangas (high to low push-ups) that combines the 26 & 2 and Power Yoga styles. Hot Power Fusion includes balancing, core work, hip openers and inversions accompanied by music, encouraging mindful focus and detoxification.




A Vinyasa-style flow class with added free weights for increased muscle endurance. This power up session is designed to tone and sculpt every major muscle group. Free weights serve as your own personal adjuster to deepen your practice. Strength training builds lean muscle mass and boosts metabolism even while resting. Intermediate level class-weights are always optional; temp 104-107