Ericka H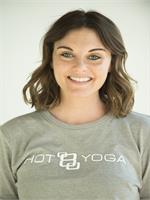 Ericka discovered therapy through physical movement and community as a small town high school athlete. Track, soccer, and basketball were a way for her to get out of her anxious teenage head into her body and close to her friends. Realizing that exercise and human connection were necessities for peace and clarity lead her to her first yoga class in 2008 but it was not love at first down-dog. Luckily the challenge kept her coming her back to her mat and then one afternoon in savasana it all clicked and it was kismet. Yoga quickly became her passion and vehicle for self exploration.
She moved from Nashville to Los Angeles and started her teaching journey at Liberation Yoga where she completed her first 200-hr training in the summer of 2015 under Christine Burke. Ericka is also a certified master III Mikao Usui Reiki practitioner under Reiki Master Aimee Bello and holds a bachelors in Communications. She is a forever student, always grateful for the next lesson and her many teachers- especially her guru fur baby Florence. Her approach to teaching is down to earth and light hearted with a focus on breath and alignment. Ericka seeks to create a space for her students to open up and become more of who they already are.
Ericka H instructs the following:
Power 1 Yoga $8 Community class taught by recent graduates!

A Vinyasa-style flow class designed for beginners to learn proper alignment and breath. It is a whole body strengthening practice that includes Sun Salutations, standing postures, simple arm balances, core strengthening, back bends, hip openers, and basic inversions. This class is excellent for those new to yoga as well as those with injuries to learn modifications; temp 100-105

**Must purchase the $8 Community class at the studio. It is not available online.
All who have a 10 class package will need to purchase the $8 class separately from your current package. Those with memberships and yearly contracts, this class will be deducted from your current membership.