Shanai E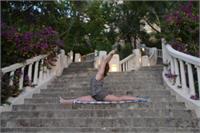 I fell in love with Barre in my first practice, exactly the same way I fell in love first with yoga, and then with hot yoga. I knew I would be practicing it for the rest of my days. Being a yoga practitioner for over a decade, an instructor since 2014, and a big fan of dance, I was so excited to have found Barre that complemented my practice in every way. I love that Barre is more than just a workout and helps cultivate a mind body connection like yoga does while working every single muscle in my body. I believe in the transformational powers of Barre and Yoga wholeheartedly and am very passionate about sharing all the benefits. Seeing my students grow in their own practice is the most rewarding thing.
After a BA in Literature; Philosophy and Language Studies in Europe; some corporate work history; lots of traveling; and training in filmmaking and acting, I am happy that I found my way to LA and am excited to be a part of the Hot 8 Yoga community.
Shanai E instructs the following:
This class is a dynamic fusion of barre work, light weights, non-impact cardio and yoga designed for developing long and lean muscles. By activating small muscles groups this class provides cross training and aids in injury prevention and recovery. Yoga Barre is a high energy class and is excellent for anyone looking to tone legs, booty, core, and arms to upbeat music.




Power Yoga $8 Community class taught by recent graduates!

A Vinyasa-style flow class designed for beginners to learn proper alignment and breath. It is a whole body strengthening practice that includes Sun Salutations, standing postures, simple arm balances, core strengthening, back bends, hip openers, and basic inversions. This class is excellent for those new to yoga as well as those with injuries to learn modifications; temp 100-105

**Must purchase the $8 Community class at the studio. It is not available online.


All who have a 10 class package will need to purchase the $8 class separately from your current package. Those with memberships and yearly contracts, this class will be deducted from your current membership.