Alexis T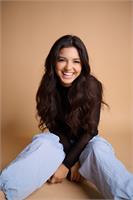 Alexis' name in Greek means helper. Ever since she was young she loved to help people. Strangers, family, or friends, she always walks into a room with a smile, wanting to brighten anyone and everyone's day. At a young age of 3, she started taking gymnastics classes and a flash of love for fitness began. Starting in 2010, she was on a competitive cheerleading team for seven years which was the end to her intense 6x a week workout. She was first introduced to yoga when she was in high school. In 2018 she attended her first Yoga Teacher Training at Hot 8 Yoga Sherman Oaks, CA. Alexis works with students of all ages, willing to help and bring peace to their hearts. With a strong fitness past, Alexis has found her love and balance with teaching and practicing Power 1! She may be young, but when grounded is ageless. With her bubbly and motivating personality, students find more encouragement during their practice. Shining her heart to the universe, you'll leave her class feeling clear-minded and refreshed.
Alexis T instructs the following:
This foundational class connects breath to movement (vinyasa) and focuses on proper alignment to set students up for success in all styles offered at Hot 8 Yoga. The temperature is set at a lower level to help acclimate students to the heat. Power 1 is an excellent full body strengthening class for both new and experienced students to learn any necessary modifications to improve their practice.