John S-J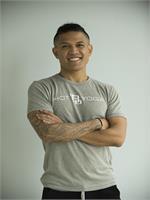 John San Juan grew up in Harlem, NY and is a Yoga Alliance 200 Hr certified instructor. He was a former professional dancer, held pretty awesome entertainment media jobs in music and film, and has an MBA from Cornell University. Upon moving to LA, he left his corporate life, said goodbye to deep-seated life unhappiness, grew out his hair like a Samurai, and now utilizes his knowledge of Eastern philosophies, yogic tradition, Chakra energy, and his former dance background to bring JSJ yoga to his new home, LA. He encourages his students to recognize that form is always the illusion. The real yogic journey begins when we connect to the "Force behind Our Form" — i.e. what happens beyond the asana (form) practice. While proper alignment, musculature use, and asana positioning are highly emphasized in his class, equal attention is placed on connecting to breath and personal movement, so every student can tap into their own spiritual, Zen-like force. Ultimately he hopes to help his students connect to their unique Light the way yoga did for him. The world needs it (your Light) - and John invites everyone to join his mix of ratchet music, dance-y tunes, classical ballet and kirtan for a #yogakiki at Hot8 Yoga.
John S-J instructs the following:
This intermediate vinyasa-style class guides students through more advanced postures and creative sequencing. Power links breath to movement and may include arm-balances, inversions and twists to stretch and strengthen the body. Accompanied by music.




A Vinyasa-style dynamic flow class, Hot Power Yoga uses breath as the primary link between attentiveness and integration of the mind and body. Hot Power Yoga is an intense practice that will flow you through strengthening postures throughout the entire class. This practice is meant to detoxify the body and burn calories through movement, breath, and heat. Designed for intermediate to advanced levels. Heated to 105-109 degrees.

**Must purchase the $8 Community class at the studio. It is not available online.
All who have a 10 class package will need to purchase the $8 class separately from your current package. Those with memberships and yearly contracts, this class will be deducted from your current membership.