John S-J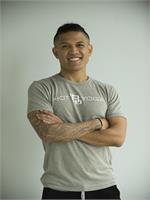 John San Juan grew up in Harlem, NY and is a Yoga Alliance 200 Hr certified instructor. He was a former professional dancer, held pretty awesome entertainment media jobs in music and film, and has an MBA from Cornell University. Upon moving to LA, he left his corporate life, said goodbye to deep-seated life unhappiness, grew out his hair like a Samurai, and now utilizes his knowledge of Eastern philosophies, yogic tradition, Chakra energy, and his former dance background to bring JSJ yoga to his new home, LA. He encourages his students to recognize that form is always the illusion. The real yogic journey begins when we connect to the "Force behind Our Form" — i.e. what happens beyond the asana (form) practice. While proper alignment, musculature use, and asana positioning are highly emphasized in his class, equal attention is placed on connecting to breath and personal movement, so every student can tap into their own spiritual, Zen-like force. Ultimately he hopes to help his students connect to their unique Light the way yoga did for him. The world needs it (your Light) - and John invites everyone to join his mix of ratchet music, dance-y tunes, classical ballet and kirtan for a #yogakiki at Hot8 Yoga.
John S-J instructs the following:
This intermediate vinyasa-style class guides students through more advanced postures and creative sequencing. Power links breath to movement and may include arm-balances, inversions and twists to stretch and strengthen the body. Accompanied by music.




New to meditation? This is the perfect place to start. Become more relaxed, efficient, and compassionate in just 15 minutes. This silent practice is conducted in a group setting for a more powerful experience of deepening your collective awareness.




This set series is an hour-long, shoulder and wrist-friendly class without chaturangas (high to low push-ups) that combines the 26 & 2 and Power Yoga styles. Hot Power Fusion includes balancing, core work, hip openers and inversions accompanied by music, encouraging mindful focus and detoxification.




This foundational class connects breath to movement (vinyasa) and focuses on proper alignment to set students up for success in all styles offered at Hot 8 Yoga. The temperature is set at a lower level to help acclimate students to the heat. Power 1 is an excellent full body strengthening class for both new and experienced students to learn any necessary modifications to improve their practice.