John H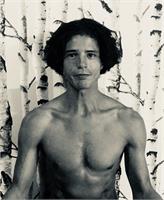 "With a background in athletics, primarily violent sports like Football, Rugby and Lacrosse, I found yoga as a means to heal the multitude of physical ailments that I accumulated from childhood through college. More specifically, I found Hot Yoga as a means to challenge my ability to breathe.
I design my classes to be fun, energetic and healing. We will flow, we will hold, we will listen to music, we will chant, we will meditate, we will breathe."
John H instructs the following:
Rhythmic-based power class in which sequences are executed to various tempos and intensities. Each class is accompanied with its own carefully crafted playlist and theme. At its peak, the sequence is linked to the beat of the music challenging balance, core strength, endurance and stamina. Candles, dim lights and soulful sounds set the vibe for the class. In this challenging tempo-based class, expect less alignment cues and some fast paced movement to music to help remain grounded in your experience. Class created by Omar Lopez.