Yasmine T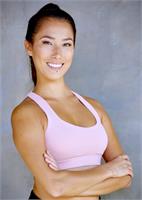 From my early childhood I loved an active lifestyle, especially taking dance classes and being part of the British Gymnastics Association. My intrigue for yoga developed during my college years, when I was diagnosed with hypermobility syndrome and osteoporosis. I knew yoga would benefit my overall health greatly and so I made it a point to explore diverse styles practiced around the world. I started with Kundalini in my hometown of London, which helped me tune into different parts of my body through powerful breath techniques. During my gap year I travelled to Bali, Australia and India where I experienced a variety of approaches and methods. While pursuing a career as a TV host and multimedia specialist, it was in 2015, that I landed in Los Angeles and was introduced to Hot 8 Yoga. I fell in love with it immediately, as the unique styles taught at the studio offer a wide combination of cardio, meditation, movement and balancing postures. The effects have been to make me feel physically, spiritually, emotionally and mentally more revived and connected, which fits in well with the demands of my profession. I am delighted to have found a space that allows me to freely create and express myself, as in my years as a gymnast and ballet dancer. Yoga Vibe by Omar Lopez, attracted me to delve into deeper due to its rhythmic and instinctual essence that instills a true warrior spirit for the common good. I am forever grateful to have tapped into the power of yoga, especially in such a special environment like Hot 8 Yoga, and thankful for the opportunity of teaching here. I am committed to sharing the lessons I have learnt, and I look forward to exploring further forms within my students and myself, under the guise of exceptional mentors and fellow teachers at the studio.
Yasmine T instructs the following:
Yoga Vibe is a class that links breath to movement and beat as we seamlessly practice the postures to soulful sounds. Candles and high volume music set the ambience of the room. The journey concludes with long stretches, deep hip openers and a guided meditation.