Stella T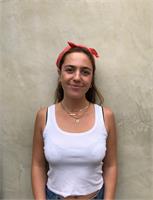 Stella Totino grew up in Los Angeles studying visual art and poetry. Interested in the meditative qualities of those art forms and looking for a way to center herself as she transitioned into the food world, she turned to yoga. Exercise had always been one of the most important facets in Stella's life, it was key to her happiness and once she stumbled upon Hot 8, she found the heat and intensity pushed her to new levels. Throughout her schooling, she had been swimmer and loved the rhythm and grace of being in the water, through practicing barre she found similarities in beat, movement, and sound. Learning self-love through strengthening her body (physically, mentally, and emotionally) she took barre training to find a way to give others the same gift of love and acceptance.
Stella T instructs the following:
Yoga Barre $8 Community Classes taught by our recent graduates!

A dynamic fusion of yoga, body sculpting, barre work, and non-impact cardio that will get you long and lean. Yoga Barre is inspired by the revolutionary exercise routine developed in London by the world-famous modern dancer, Lotte Berk and her orthopedist. This class is a cardiovascular program of isometric exercises and orthopedic stretches designed to improve your posture and form a sculpted physique. Intermediate level class; temp 104-109

**Must purchase the $8 Community class at the studio. It is not available online.


All who have 10 class packages will need to purchase the $8 class separately from your current package.

Those with memberships and yearly contracts, this class will be deducted from your current membership. It is included in the membership.